PathPix Timeの概要
| | |
| --- | --- |
| アプリタイトル | PathPix Time |
| サブタイトル | |
| パブリッシャー | Kris Pixton |
| 料金 | ¥120 |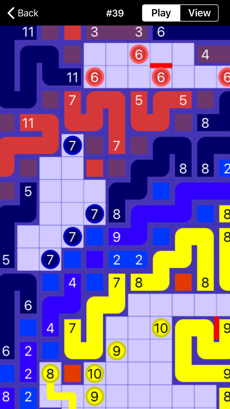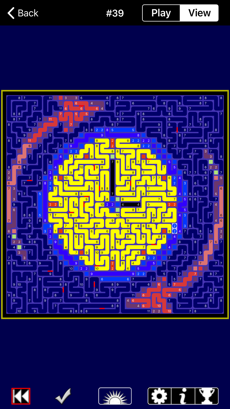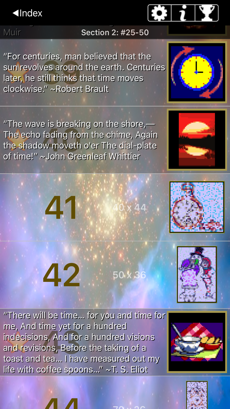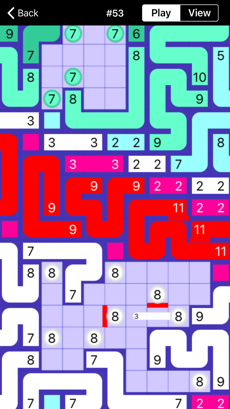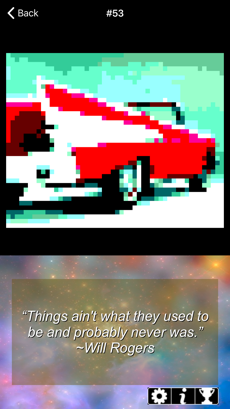 PathPix Timeの公式概要
Time's passing! Celebrate past, present, and future by playing PathPix! 99 puzzles, range of sizes and difficulty levels, for today, tomorrow and the year to come.

New to PathPix? Not sure which PathPix to buy?
Here's the lineup:

There are many different PathPix apps for your iPhone and iPad. All puzzles are different.

---PATHPIX LITE: Wondering if PathPix is for you? Start here. It's free!
---PATHPIX: Hooked? This is the next step, with 189 graduated levels, ranging from small, easy puzzles to large, advanced level puzzles.
---PATHPIX PRO: Are you an expert? Looking for a LOT of puzzles? Then PathPix Pro is for you, with 320 puzzles ranging from Medium difficulty to Extreme.
---PATHPIX ZEN: Relaxing and addictive! 99 beautiful puzzles, including an Advanced Levels section with 12 special challengers.
---PATHPIX JOY: Keep smiling! 99 puzzles = many happy hours of PathPix fun. Small to large, easy to advanced - you'll find it all here.
---PATHPIX MAGIC: Magic of all kinds! 99 puzzles, small to huge, easy to advanced.
---PATHPIX LAUGH: Lots more puzzles to tickle your funnybone. 202 puzzles, each with a silly joke or quote related to the puzzle picture. Small to large, easy to extreme.
---PATHPIX BOO: Silly - spooky - scary - fun! 99 puzzles for Halloween and other dark nights.
---PATHPIX XMAS: 99 puzzles with a Christmas theme to get you in the mood for the holidays. Whether you are looking for sentiment or silliness, you will find it here.
---PATHPIX LOVE: All you need is love! 99 puzzles, easy to advanced.
---PATHPIX MAX: Some of the biggest PathPix puzzles ever. 114 GIANT-sized puzzles, over a million squares total!
---PATHPIX ART: MAXimum fun - 150 HUGE puzzles based on famous paintings, including the biggest PathPix puzzles ever made.
---PATHPIX THANKS: 99 puzzles for Thanks Giving. Easy to Expert.
---PATHPIX EDGE: Live on the edge! None of these puzzles are rectangular. 180 puzzles, all different shapes, from teeny to gigantic, easy to expert.
---PATHPIX ALICE: The original Alice comes to life as you puzzle your way through 42 truly gigantic, colorful, and FUN illustrations for Lewis Carroll's masterpiece novel, Alice's Adventures in Wonderland. Puzzles are based on the classic Tenniel illustrations. Complete book included.
---PATHPIX TIME: 99 forward-looking puzzles to welcome the New Year and beyond. Small to large, easy to expert.
---PATHPIX HEX: PathPix with a difference: the paths wander about on a grid of 6-sided cells (hexagons) . Warning: twisty paths make for tricky puzzles! 179 puzzles, easy to extreme.
---PATHPIX BUBBLE: Classic PathPix on special grids with squares and rectangles of different sizes. Paths can be wild and wacky. The theme is Water, oceans to raindrops. 160 puzzles, easy to expert.


Simple rules - complex puzzles - hidden pictures!
********************
Draw bright, bold lines of color, connecting pairs of colored numbers. The length of each path must match the numbers on the two endpoints. Draw backwards or double tap to correct mistakes. There's only one way to do it, and all squares will contain a piece of a path when the puzzle is solved.
Stuck? Use the check button and remove incorrect paths. Finish solving to see the miniature picture that you have created.

Two ways to navigate while solving:
---Tap the zoom button for an overview, then touch the screen where you want to play next.
---Pan to show another area of the board. Put your finger down any place WITHOUT A NUMBER and move it around. Simple, intuitive, fast.

PathPix Time is based on the PC game "PathPix" by KpixGames.
PathPix Timeの詳細情報
| | |
| --- | --- |
| サイズ | 8.8MB |
| カテゴリ | ゲーム |
| 互換性 | iOS 8.0以降。iPhone、iPad、およびiPod touchに対応。 |
| 言語 | 英語 |
| 年齢制限 | 4+ |
| 料金詳細 | ¥120 |
開発者情報
– Funで人気のバンドル
– ライフゴール別App Bundle
– アプリとゲームのフィルタリング
– ゲームカテゴリー
– TikTok-Make Your Day
– ZOOMクラウド会議
– 買い物を楽しく
– キャッシュアプリ
– WhatsAppメッセンジャー
– インスタグラム
– メッセンジャー–無料のテキストおよびビデオチャット
– Netflix
– ディズニー+
– パズルゲームのトップゲーム
– もつれマスター3D
– ラブピン
– フィッシュダム
– すべてをフィット
– 充電してください!
– ノット3Dに移動
– ウッドブロックパズルのないクラシックブロックパズルゲーム
– 彼を引き出す
– 3D塗りつぶし
– ピンを引く
– 最新のアプリレビューをお見逃しなく!
カスタマーレビュー
– 現在、レビューのフィルタリング中に問題が発生しま。後でもう一度やり直してください。
– トップ国際レビュー
– この製品をレビューする
PathPix時間
– 共有
– クリス・ピクストン
– 時間の経過です!新年を迎える99の前向きなパズル。
– PathPix Timeについて
– 評価とレビュー
– リリースノート
– 1
– 開発者情報
ID番号
– ダウンロード:PathPix Time
– TapTapでダウンロード
– PathPix Timeタグ
– タグ付けする
– レポートタグ
– 総研ウィジェット