Whack a MADMOLE!の概要
| | |
| --- | --- |
| アプリタイトル | Whack a MADMOLE! |
| サブタイトル | |
| パブリッシャー | KyuSun HAN |
| 料金 | ¥250 |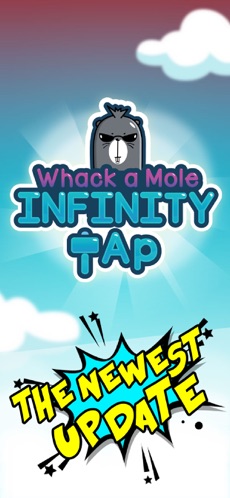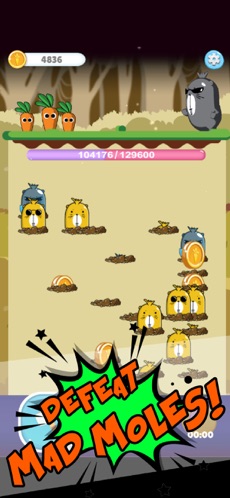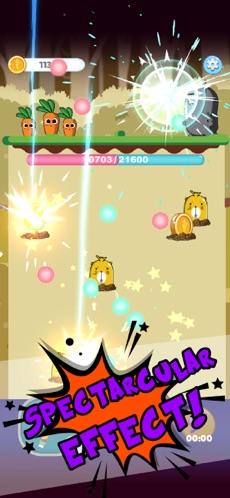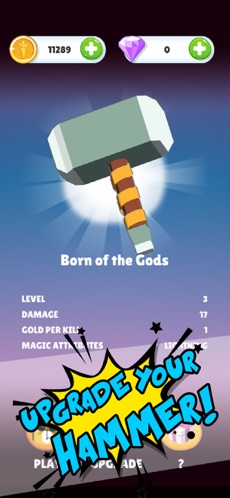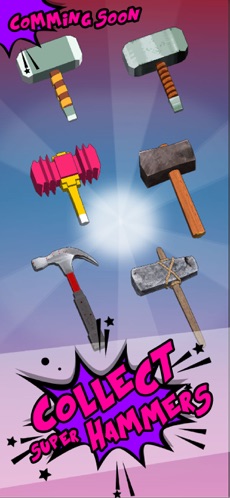 Whack a MADMOLE!の公式概要
Does the sight of moles spike anger in you? Beat cartoon moles and kill them with your fast tapping skills. The game is designed to revamp the much-loved whack a mole game played for ages. With plenty of new design and gameplay updates, the brand new Whack a MADMOLE: Hole Puzzle is a complete package of fun and entertainment for everyone!
Kill the Mole
Kill the mole right when you see it! A group of cheeky moles has invaded and it is hard to catch them with your basic skills. Turn into a mole exterminator by beating the moles out of their holes.

Tap to beat
The game offers an endless mole chase in which you will have to overcome impossible game levels. With its randomized arrangement of holes at every level, the whack game is designed to offer you greater challenges at every step of the way.

Pick your hammer
Would you rather be a noob and stick with your old hammer or be a pro and hunt down all the moles from every game level? Experience the thrill of hunting down cheeky moles and feel satisfaction in clearing them from your screen. The game offers multiple hammer options and you can redeem them by using your game rewards.

Win rewards
With every mole killed, you will receive a good number of rewards. Improve your coin and gem score to unlock new prizes every day. The game is integrated with interactive sound and visual effects so that you can experience the satisfaction of killing moles to the fullest! Whether you are a new player or an experienced person at hunting down moles during game, this app has got all the features to make you fall in love with the upgraded version of vintage whack a mole game.

Invite your friends and family over or play solo to experience the true zest of whack a mad mole gaming!

How to play Whack a MADMOLE: Hole Puzzle:
• Download and launch the app
• Pick your hammer
• Hit the play button
• Whack the mole wherever you see it
• Collect coins and gems
• Unlock new hammers with your score
Features of Whack a MADMOLE: Hole Puzzle:
• Simple and easy UI/UX
• Clutter-free gameplay and app design
• Interactive background music and sound effects
• Appealing graphic elements and design
• Tap as fast as you can to beat the mole
• Unlimited challenging levels with random hole arrangement
• Increase your score with every mole you kill
• Let your anger out on cartoon moles
• Collect gems and use them to redeem new hammer designs
• Wide assortment of hammer styles to pick from
• Unlock new hammers to enjoy better powers
• Spectacular sound effects for an interactive gameplay
Would you like to take your frustration out on a harmless whack a mole game? How about spending your idle time playing an endless mole chase? Download Whack a MADMOLE: Hole Puzzle today to stay entertained in your spare time!
Whack a MADMOLE!の詳細情報
| | |
| --- | --- |
| サイズ | 329.8MB |
| カテゴリ | ゲーム |
| 互換性 | iOS 10.0およびwatchOS 5.1以降が必要です。iPhone、iPad、およびiPod touchに対応。 |
| 言語 | 英語 |
| 年齢制限 | 4+ |
| 料金詳細 | ¥250 |
マドモルを強打!
– キュサンハンアクションゲーム
– 使い方・遊び方
– 最新店舗ランキングと月間ランキング推移
– 基本情報
– 仕様・仕様
– 集客傾向/アクティブユーザー分析
– ユーザー属性/生成
– ネットトピックインデックス
– 開発会社配布タイトル
– このアプリと同じカテゴリのランキング
– キュサンハンアプリ
– 新しいおすすめアプリ
– 注意の要約
– 共有
– クレイジーモールのハンマーストライクをヒット
– MADMOLEについて
– 評価とレビュー
– KyuSun HANその他の作品
– リリースノート
– 2
– 開発者情報
情報
– Funで人気のバンドル
– ライフゴール別App Bundle
– アプリとゲームのフィルタリング
– ゲームカテゴリー
– ZOOMクラウド会議
– TikTok-Make Your Day
– WhatsAppメッセンジャー
– 買い物を楽しく
– FaceApp-AIフェイスエディター
– キャッシュアプリ
– ディズニー+
– インスタグラム
– Spotify:新しい音楽、ポッドキャスト、曲を聴く
– メッセンジャー–無料のテキストおよびビデオチャット
– アーケードゲームのトップゲーム
– キューブサーファー!
– スパイラルロール
– ヘルコプター
– Robloxプラットフォーム用の強力なGranny-Win Robux
– Clash 3Dに参加する
– 良いスライス
– クライマーを描く
– タワーラン
– サブウェイサーファーズ
– エスケープマスターズ
– 最新のアプリレビューをお見逃しなく!
Adobeの新しいPhotoshop CameraアプリがiOSとAndroidで無料で利用可能に
ID番号
– ダウンロード:MADMOLEを強打!
– TapTapでダウンロード
– 修飾通通TapTap舷舷端ダウンロード
– マドモルを強打!タグ
– タグ付けする
– レポートタグ
– 総研ウィジェット
完全な仕様
– 一般的な
– カテゴリー
– オペレーティングシステム
– ダウンロード情報
– 人気
– 価格